Towada-Hachimantai National Park Itinerary
ROUTE MAP

SCHEDULE
Area: Towada-Hachimantai National Park (The Oirase Stream, Lake Towada and the Hakkoda Mountains)
Number of days: Five days
Tour Towada-Hachimantai National Park on public transportation.
Enjoy a walk to take in the natural beauty of Oirase Stream, designated as a National Bryophyte Heritage Site of Japan for its more than 300 varieties of mosses.
Paddle a canoe on Lake Towada and become one with unspoiled nature.
A caldera lake formed by volcanic activity, Lake Towada is known for its blue water, beautiful wilderness, and the cliffs of the Ogura Peninsula.
Ride the gondola lift up the Hakkoda Mountains and see spectacular 360-degree panoramas of Mount Iwaki, Mutsu Bay, the Tsugaru and Shimokita Peninsulas, and the Tsugaru Plain.
Take in the ever-changing mountain scenery and alpine flowers on this mostly downhill hiking route which is perfect for novice hikers.
Visit the 300-year-old hot spring – designated as the first National Health Spa – and soak in the large cypress bathtub. After you have bathed, try the famous Sukayu soba and kori-dofu, a tofu made with a freezing process.
Available period: Late April to mid-November (JR bus operation period)
Notes:
This trip is designed for individual travelers on public transportation and is available only while JR buses are in operation.
Please note that bus schedules and other information is subject to change.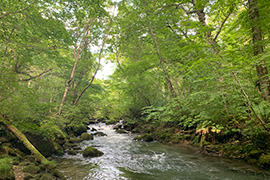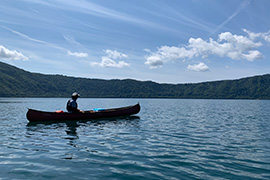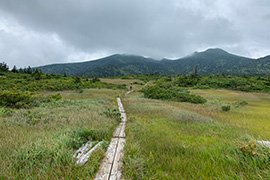 Day 1
Departure location/
overnight location
Time
Transportation
Activities
Meals (accommodations)
Depart from Tokyo Station
Time needed:
2 hours, 44 minutes
Shinkansen
From Tokyo Station to Hachinohe Station on the Shinkansen.
Breakfast – no
Lunch – yes
Dinner – yes
Stay at the Oirase Keiryu Hotel
Depart from Hachinohe Station
Afternoon



JR Bus Tohoku

Lunch
Take the Oirase-go bus from the West Exit of Hachinohe Station
Arrive at the Oirase Keiryu Hotel
Check in
Dinner at the hotel
Day 2
Departure location/
overnight location
Time
Transportation
Activities
Meals (accommodations)
Oirase Stream
Morning
(Time needed:
3 hours)



On foot

Breakfast at the hotel
Oirase Stream moss walk (NPO Oiken)
Moss walk ends

Breakfast – yes
Lunch – yes
Dinner – yes
Stay at the Towada Prince Hotel
Lake Towada
Afternoon



JR Bus Tohoku

Lunch
Take the Oirase-go bus from the Oirase Keiryu Hotel
Arrive at Towada Station




Shuttle bus

Board the hotel shuttle bus
Check in
Dinner at the hotel
Day 3
Departure location/
overnight location
Time
Transportation
Activities
Meals (accommodations)
Lake Towada
Time needed:
8 hours, 20 minutes

Shuttle bus

Breakfast at the hotel
Take the hotel shuttle bus to Towadako Station
Get off at Towadako Station
Go Canadian canoeing on Lake Towada
Canoeing adventure ends
Lunch
Board the Lake Towada Sightseeing Boat (see the Ogura and Nakayama Peninsulas)
Sightseeing cruise ends
Return to the hotel on the hotel shuttle bus
Arrive at the hotel
Dinner at the hotel

Breakfast – yes
Lunch – yes
Dinner – yes
Stay at the Towada Prince Hotel
Day 4
Departure location/
overnight location
Time
Transportation
Activities
Meals (accommodations)

Lake Towada

Hakkoda Mountains

Sukayu Onsen

Time needed:
7 hours, 30 minutes



Shuttle bus





JR Bus Tohoku

Breakfast at the hotel
Take the hotel shuttle bus to Towadako Station
Get off at Towadako Station
Take the Mizuumi-go bus from the Lake Towada rest house
Arrive at the Hakkoda Ropeway
Lunch
Take the Hakkoda Ropeway from the base station
Get off at Summit Park Station
Walk along the Hakkoda Gourd Line
Ride the Kenashi Paradise Line
Check into the ryokan
Sukayu Hot Spring large bath
Dinner at the ryokan

Breakfast – yes
Lunch – yes
Dinner – yes
National Health Spa
Stay at Sukayu Onsen
Day 5
Departure location/
overnight location
Time
Transportation
Activities
Meals (accommodations)

Sukayu Onsen

Aomori

Time needed:
2 hours, 27 minutes



JR Bus Tohoku

Breakfast at the ryokan
Take the Mizuumi-go bus from Sukayu Onsen
Get off at Aomori Station
Depart from Aomori Station
Arrive at Aomori Airport

Breakfast – yes
Lunch – no
Dinner – no