This graphic is for illustrative purposes only.
This itinerary is based on estimated times and is subject to change without notice.
ROUTE MAP

SCHEDULE

*This course starts from Fukuoka.
−Access to Fukuoka−
| From | Duration | Transportation |
| --- | --- | --- |
| Tokyo | about 2 hours | by Air |
| Osaka | about 80 minutes | by Air |
Day 1
Local time
Schedule
Detailed schedule

Arrive at Fukuoka Airport

13:00 Dep.

Travel
Fukuoka Airport ⇒⇒ Fukuoka Area (about 20 minutes)
13:20 Arr.
15:10 Dep.
Admission

Fukuoka Area

Kushida Shrine (view Dashi at Hakata Gion Yamakasa)

15:45 Arr.
17:00 Dep.
Admission

Dazaifu Area

17:30 Arr.
Fukuoka (Hakata)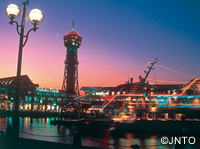 Originally two cities - the merchant's quarter of Hakata and the Samurai quarter of Fukuoka - modern Fukuoka is the biggest city of Kyushu. The modern shopping center is dominated by the golden IMS building in Tenjin area, and the Nakasu area is one of the best in Japan for experience of nightlife.
Day 2
Local time
Schedule
Detailed schedule

8:00 Dep.

Travel
Fukuoka Area ⇒⇒ Kitsuki Area (about 2 hours and 15 minutes)
10:50 Arr.
Visit

Kitsuki Area

Bansyo no Saka / Suya no Saka / Shihoya no Saka / Kitsuki Castle (viewing exterior alone)

Admission

Kitsuki Area

Nomi Residence (tea ceremony) / Ohara Residence

12:30 Dep.
Travel
Kitsuki Area ⇒⇒ Yufuin Area (about 50 minutes)
13:20 Arr.
Visit

Yufuin Area

Stroll around Yunotsubo Kaido and adjacent area / Kinrinko

14:45 Dep.
Travel
Yufuin Area ⇒⇒ Beppu Area (about 30 minutes)
15:15 Arr.
Admission

Beppu Area

Jigoku Meguri The Hell Tour

Experience

Beppu Area

Jigoku Mushi Koubo (footbath)

17:30 Arr.
The Kitsuki Area (Bansho no saka, Suya no saka, Shihoya no saka, Kitsuki Castle)
Kitsuki is a castle town that retains the flavor of the Edo period. It offers a classic village atmosphere consistent with the traditional imagery of Japan that many foreign tourists have in mind. Visitors to Kitsuki can stroll the town in traditional Japanese wear rented from a local Waraku-an clothing rental outlet for only 2,000 yen per kimono (including dressing).
"Hells of Beppu" Course
Although their waters display the mystical cobalt blue color of the ocean, the Hells of Beppu are actually a series of almost-boiling (98°C) hot springs created by an eruption of Mount Tsurumi. The Hells of Beppu Course is a popular Beppu tourist attraction that introduces visitors to eight unique hot springs or hells, including the umi jigoku ("sea hell"), chinoike jigoku ("blood pond hell"), and tatsumaki jigoku ("spout hell").
Day 3
Local time
Schedule
Detailed schedule

9:00 Dep.

Travel
Beppu Area ⇒⇒ Aso Area (about 1 hour and 15 minutes)
10:15 Arr.
Visit

Aso Area

Kokonoe "Yume" Ooturihashi / Aso Panorama Line

Visit

Aso Area

Aso Shrine / Aso Monzencho

Ride

Aso Area

Mt. Aso ropeway (Asosan Nishi → Kako Nishi)

15:00 Dep.
Travel
Aso Area ⇒⇒ Kumamoto Area (about 1.5 hours)
16:15 Arr.
Admission

Kumamoto Area

Kumamoto Castle / Sakura-No-Baba Josaien

17:45 Dep.
18:00 Arr.
Mount Aso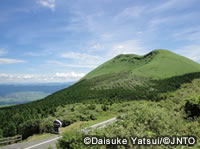 The Aso-Kuju National Park is in the middle of Kyushu between Beppu and Kumamoto and is not to be missed. Mount Aso is actually five volcanoes, of which the highest is Mount Takadake (1,592m), in the world's largest caldera (128km in circumference). Although one of the peaks, Mount Nakadake, is highly active, there is a ropeway to its summit. The peaks rise out of a landscape of green meadow that cover the floor of the caldera, creating an atmosphere that is at once bucolic and primeval. The ropeway runs from Aso-zan Nishi ropeway station, which is 40 minutes from Aso town by car.
Day 4
Local time
Schedule
Detailed schedule

8:30

9:01 Dep.
9:44 Arr.
Travel
Kumamoto Station ⇒⇒ Kagoshima-Chuo Station (Mizuho 601; 43 minutes)

10:00 Dep.

Travel

From Kagoshima-Chuo Station to Sakurajima Pier by chartered bus (about 10 minutes)

10:10 Arr.

Embarkation

Sakurajima Area

Admission

Sakurajima Area

Yougan Nagisa Park (footbath) / Yunohira Tenbojo

12:30 Dep.
Travel
Sakurajima Area ⇒⇒ Kagoshima Area (about 50 minutes)
13:00 Arr.
Admission

Kagoshima Area

Tour

Kagoshima Area

16:10 Dep.
Travel
Kagoshima Area ⇒⇒ Ibusuki Area (about 50 minutes)
17:00 Arr.

Stay at Ibusuki
*Those who are interested may experience sand steam hot spring.
Sakurajima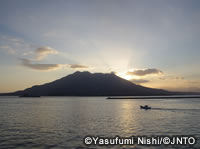 A short ferry ride from Kagoshima is the smoking volcano of Sakurajima, this active volcano has erupted 30 times through recorded history. It continues to puff stream into the sky and occasionally even covers the city with fine soot and ash. Sakurajima means "Cherry Blossom Island", but isn't officially an island anymore - a 1914 eruption connected it to the far side of the Kinko bay.
Kagoshima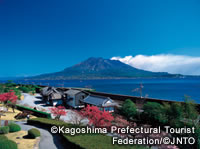 Located on the southern coast of Kyushu, Kagoshima was for 29 generations( almost 700 years) rules by a single clan, the Shimazu. The Shimazu bequeathed to the city its loveliest attraction, the 17th-century Iso-teien Garden, with the sea and Mount Sakurajima as a backdrop. Kagoshima is also a city of rich history; Because of its relative isolation at the southern tip of Japan, far away from the capitals of Kyoto and Tokyo, Kagoshima has developed an independent spirit through the centuries that has fostered a number of great men and accomplishments.
Day 5
| Local time | Schedule | Detailed schedule |
| --- | --- | --- |
| 8:00 Dep. | Travel | Hotel ⇒⇒ Kagoshima airport (about 2 hours) |
| 10:00 Arr. | | Arrive at Kagoshima airport |
| | Travel | Kagoshima Airport ⇒⇒ Haneda Airport (about 100 minutes) |