This graphic is for illustrative purposes only.
This itinerary is based on estimated times and is subject to change without notice.
ROUTE MAP

SCHEDULE

*This course starts from Tokyo.
−Access to Tokyo−
| From | Duration | Transportation |
| --- | --- | --- |
| Osaka | about 1.5 hours | by Air |
| Narita Airport | about 1 hour | by Train |
Day 1
Local time
Schedule
Detailed schedule

9:00 Dep.

Travel
12:30 Arr.
Admission

Nikko Area

Nikko Toshogu, Futarasan Shrine

Visit

Nikko Area

18:00 Arr.

Stay at Nikko or Kinugawa Onsen
Day 2
Local time
Schedule
Detailed schedule

9:00 Dep.

9:15 Arr.
Admission

Kinugawa Area

11:00 Dep.

12:10 Dep.

Get on

13:35 Arr.

16:30 Dep.
Visit

Yunokami-Onsen Area

Yunokami-Onsen Station, Ouchijuku, and To-no-hetsuri(Natural Riverside Sculpture)

17:15 Arr.

Stay at Higashiyama Onsen
Day 3
Local time
Schedule
Detailed schedule

9:00 Dep.

9:10 Arr.
10:15 Dep.
Admission

Aizuwakamatsu Area

11:00 Arr.
13:30 Dep.
Visit

Kitakata Area

14:20 Arr.
16:20 Dep.
Admission

Yonezawa Area

Yonezawa Castle ruins, Toko sake brewery

17:00 Arr.
Ouchi-juku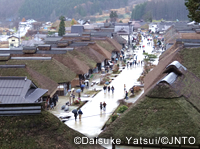 Ouchi-juku entered the national spotlight in April 1981 when it was designated as Important Preservation District for Groups of Traditional Buildings. The hip-roofed (yosemune-zukuri) homes lining its streets are one of its noteworthy features. Ouchi-juku historically thrived as a "post town," offering lodging for travelers on the Minami-yama Dori (Aizu Nishi Kaido) that connected Aizu Wakamatsu with Nikko and Imaichi.
Tsuruga Castle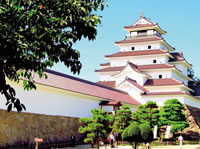 Built in 1384 A.D. by Ashina Naomori, Tsuruga Castle was originally known as Kurokawa Castle. Date Masamune later captured the castle from Ashina Yoshihiro in 1589 but relinquished control to Toyotomi Hideyoshi the following year. Shortly afterward, Gamo Ujisato became the new lord, renovated the castle, renamed it Tsuruga, and named the surrounding town Wakamatsu. During the Boshin War, Tsuruga Castle gained distinction as an impregnable fortress that withstood an intense month-long battle. In March 2011, its donjon was re-roofed with red brick tiles, a rarity among castles in Japan.
Kitakata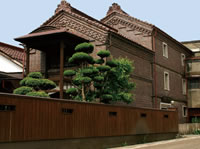 Located in Fukushima Prefecture, the municipality of Kitakata currently has over 4,200 traditional kura storehouses located within its city limits. Visitors have the opportunity to stroll and enjoy the historically rich kura scenery particularly along the main Fureai and Otazuki-kura streets in the downtown district.
Yonezawa Castle Ruins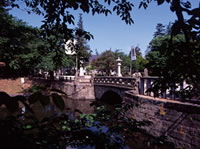 Yonezawa Castle in Yamagata Prefecture was occupied by a series of warlords including Nagai, Date, Gamo, and Uesugi, and was also known as Maizuru or Matsugasaki Castle. The castle structure was dismantled in 1873 and re-opened as Matsugasaki Park the following year. The moat and the earthwork foundation for the castle keep are all that remain today. The ruins of the castle keep are more familiar to local citizens as the site of the Uesugi Shrine. The Kasuga Shrine and Keishouden are also located nearby along with statues of Uesugi Kenshin and Yozan as well as Uesugi Kagekatsu and Naoe Kanetsugu, two personalities placed into the limelight by the NHK taiga drama series, "Tenchijin."
Day 4
Local time
Schedule
Detailed schedule

9:00 Dep.

10:30 Arr.
11:30 Dep.

Ginzan Onsen Area

Visits to Oshin filming locations

13:00 Arr.

Board

Mogami River Area

Furukuchi Port
Basho Line Mogami River boat cruise

15:00 Dep.
17:00 Arr.
Mogamigawa Funakudari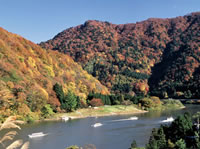 An approximately hour-long boat ride starting from Tozawamura, an important port town for boat traffic on the Mogami River, a mother river which traverses Yamagata Prefecture. Passengers are treated to an array of Mogami Gorge scenery that varies by the season: the budding leaves and cherry blossoms of spring, the crimson foliage of autumn, and winter scenes evocative of Suiboku paintings. The Japanese poet Basho composed a haiku about the Mogami River: samidare o atsumete hayashi Mogami-gawa. This is rendered as "Gathering the rains, of the wet season - swift, the Mogami River."
Naruko Hot Springs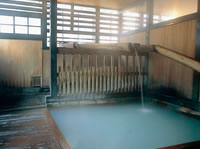 Endowed with a wealth of hot spring resources and qualities, the Naruko Hot Spring Villages are one of eastern Japan's leading hot spring resorts, boasting nine of the 11 types of hot spring qualities known in Japan. The Naruko Hot Springs comprise five villages: Naruko, Higashi-naruko, Kawatabi, Nakayama-daira, and Onikobe. Visitors may purchase yu-meguri passes that allow them to easily experience the pleasures of bathing in a variety of hot spring waters.
Day 5
Local time
Schedule
Detailed schedule

8:00 Dep.

Depart from hotel
10:00 Arr.
Admission

Matsushima Area

Board

Matsushima Area

13:00 Dep.
Get off
13:45 Arr.
16:00 Dep.
Admission

Sendai Area

Outlet Park Sendai Port, Aoba Castle

16:32 Dep.

Get on

Shinkansen Hayabusa No.12 at Sendai Station

18:08 Arr.
Zuigan-ji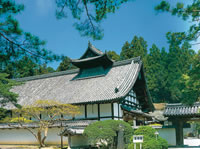 The principal Zen Buddhist temple in Oshu, Iwate Prefecture, Zuigan-ji was founded by Jikaku Daishi Ennin in 828 A.D. This was the family temple of the Date clan.
Matsushima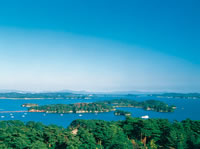 Comprising over 260 small and large islands, Matsushima Bay will impress visitors with scenery exemplifying the four seasons of the Japanese archipelago. Four spots of Matsushima Shidaikan offer a panoramic view of the Matsushima islands. Visitors may also experience the scenic views from Saigyo Modoshi No Matsu Park or take relaxing excursion boat tours around the islands.
Sendai Castle Ruins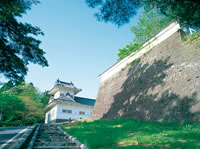 These are the ruins of Sendai Castle (Aoba Castle), built by Date Masamune, founder of the Sendai Domain. The ruins still convey the imagery of a solid mountain castle known as a natural fortress that exploited the natural topography of surrounding forests and bluffs.