This graphic is for illustrative purposes only.
This itinerary is based on estimated times and is subject to change without notice.
ROUTE MAP

SCHEDULE

*This course starts from Nagoya.
−Access to Nagoya−
| From | Duration | Transportation |
| --- | --- | --- |
| Narita Airport | about 70 minutes | by Air |
| Osaka | about 1 hours | by Bullet train (Shinkansen) |
| Chubu Centrair International Airport | about 30 minutes | by Train |
Day 1
Local time
Schedule
Detailed schedule
11:00 Arr.
Visit

Nagoya Area

Admission

Nagoya Area

17:00 Arr.
Nagoya Castle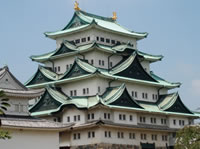 Renowned for its golden shachihoko (dolphin-like roof ornaments modeled on a mythical creature of Japanese folklore, bearing the head of a tiger and body of a carp), Nagoya Castle was built in 1612 by the order of Tokugawa Ieyasu. Although the castle was largely destroyed by air raids during World War II, its main donjon, smaller donjon, main gate, and certain other structures were restored in 1959. Currently, restoration work is under way on the Honmaru Palace structure, with completion expected by 2018.
Day 2
Local time
Schedule
Detailed schedule

9:00 Dep.

Travel
Nagoya ⇒⇒ Gujo City (about 1 hour)
10:00 Arr.
Admission

Gujo Area

Gujo Hachiman Castle / Gujo Hachiman Museum

Tour

Gujo Area

Tour to Sample Village Iwasaki / Breweries

14:00 Dep.
Travel
Gujo City ⇒⇒ Takayama (about 1 hour and 15 minutes)

15:15 Arr.

Visit

Takayama Area

Ancient street in Takayama

Admission

Takayama Area

Yatai Kaikan / Takayama Jinya

17:00 Arr.

Stay at Takayama
*After dinner, those who are interested take tour to illuminated downtown Takayama City for stroll
Takayama City (Gifu Prefecture)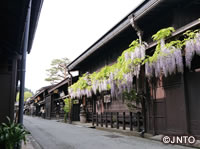 Affectionately known as the Little Kyoto of the Hida region, Takayama is an attractive community of bustling sake breweries, shopping districts, and neighborhoods of homes connected by projecting lattice structures and networks of irrigation water flowing under their eaves. The Takayama Yatai Kaikan (Takayama Festival Float Exhibition) displays life-sized exhibits of floats utilized in the Takayama Festival, which is famed as one of the three largest festival events (matsuri) in Japan. Visitors have the opportunity to view the floats on display year-round.
Day 3
Local time
Schedule
Detailed schedule

8:30

Visit

Miyagawa Asaichi (6:00 - visitable)

Admission

10:00 Dep.

Travel
Takayama ⇒⇒ Shirakawa-go (about 1 hour)
11:00 Arr.
Visit

Hida Shirakawa-go

Shiroyama Tenshukaku Observatory Gassho Style residences (Wada and Kanda families')

14:00 Dep.
Shirakawa-go ⇒⇒ Gokayama (about 30 minutes)
14:30 Arr.
Visit

Etchu Gokayama Area

Suganuma Gassho style village

16:00 Dep.
Travel
Gokayama ⇒⇒ Toyama (about 1 hour)
17:00 Arr.
Shirakawa-go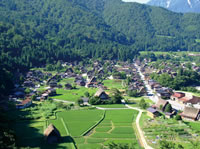 A historic district of mountain valleys and villages of traditional homes bearing steep thatched roofs (gasshou-zukuri), Shirakawa-go earned designation as a UNESCO World Cultural Heritage Site in 1995. Gasshou-zukuri or gasshou style refers to the gabled, thatched construction of the steep roofs on many homes in this snow-country district, and derives from the image of holding one's palms together as in prayer.
Gasshou Village World Heritage Site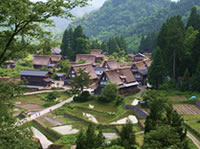 Registered as a World Cultural Heritage Site, the municipality of Nanto in Toyama Prefecture is known for its gasshou-style thatched-roof homes, many of which were built from the late Edo to late Meiji period. In March 2009, Nanto earned the highest three-star rating as a tourist destination in the Michelin Green Guide Japan edition, a travel guide published by Michelin of France. Only 17 locations in Japan have earned the three-star rating. Incidentally, the Nanto villages of Ainokura and Suganuma have earned two-star ratings.
Day 4
Local time
Schedule
Detailed schedule

Around 9:00 Dep.

Travel

Tateyama Kurobe Alpine Route

(Total of about 7 hours)

Tateyama Cable Car (Tateyama)
Forest for wood bathing (Bijodaira)
Murodo Daira / Mikurigaike (Murodo)
Yuki no Otani Walk (Murodo)
Ropeway (Daikan Toge / Kurobe Daira)
Kurobe Dam (Kurobe Dam Station)

Around 16:00 Arr.
Ogisawa Station
Travel
Ogisawa Station ⇒⇒ Matsumoto (about 1.5 hours)
Around 17:30 Arr.
Tateyama Kurobe Alpine Route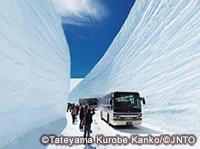 "Snow Walls" at Otani can be seen around mid-April to late May.
A transportation corridor connecting Tateyama-machi in Toyama Prefecture with Omachi City in Nagano Prefecture, the Tateyama Kurobe Alpine Route is one of the largest-scale mountain tourist sightseeing routes of its kind in the world. Travelers plying the route rely on multiple modes of transport, including the Tateyama Ropeway with its views of the Tateyama mountain range, a cable-car line that moves entirely underground, trolley bus rides through tunnels that were used during construction of the Kurobe Dam, and a pedestrian walkway across the top of Kurobe Dam, the tallest in Japan. Built almost entirely within the boundaries of Chubu-Sangaku National Park, the route traverses the Hida and Tateyama mountain ranges and passes by Kurobe Dam as well as a number of other spots of scenic interest.
Open: mid-April to November.
Day 5
| Local time | Schedule | Detailed schedule |
| --- | --- | --- |
| 9:00 Dep. | Admission | |
| 10:00 Arr. | | |
| 11:00 | Travel | Matsumoto ⇒⇒ Suwa (about 1 hour) |
| | Admission | |
| 13:30 Dep. | Travel | Suwa ⇒⇒ Tokyo (about 3 hours) |
| Around 16:30 Arr. | | |