This graphic is for illustrative purposes only.
This itinerary is based on estimated times and is subject to change without notice.
ROUTE MAP

SCHEDULE

*This course starts from Asakusa.
−Access to Asakusa−
| From | Duration | Transportation |
| --- | --- | --- |
| Osaka | about 1.5 hours | by Air |
| Narita Airport | about 1 hour | by Train |
Day 1
Local time
Schedule
Detailed schedule

9:00 Dep.

Admission

Asakusa Area

Senso-ji (temple), Nakamise shopping arcade

Hands-on experience

Asakusa Area

Admission

Asakusa Area

Visit

Ginza Area

17:00 Arr.
Asakusa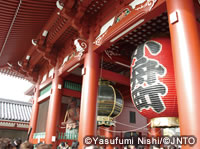 An area in the northeast of the city with distinctive character, Asakusa is the old downtown or SHITAMACHI quarter of Tokyo. It is home to the oldest and best known temple in Tokyo, the Senso-ji (or Asakusa Kannon Temple), which has been standing here - in various forms - since 628 A.D. Nakamise-dori shopping arcade, in front of Senso-ji, consists of several fascinating rows of gaudy shops and stalls selling snack foods, traditional gifts and souvenirs.
Ginza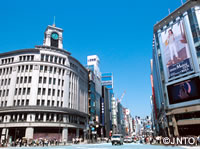 The one part of Tokyo that everyone knows is the richest part of the city. Japan's storied shopping district that is often compared to New York's Fifth Avenue, or London's Knightsbridge. There is plenty of "QUALITY" but it also holds plenty of snob appeal - it is an area of expensive boutiques, department stores and exclusive galleries.
Day 2
Local time
Schedule
Detailed schedule

5:00

Travel
Hotel ⇒⇒ Tsukiji market
Admission

Tsukiji Area

7:00
Travel
Tsukiji Area ⇒⇒ Mt.Fuji Area (about 2 hours)
Admission

Mt. Fuji Area

Visit

Mt. Fuji Area

5th. station (halfway up) on Mt. Fuji

Travel
Mt. Fuji Area ⇒⇒ Hakone Area (about 2 hours)
Admission

Hakone Area

Komagatake Ropeway (about 50 minutes)

18:30
Tsukiji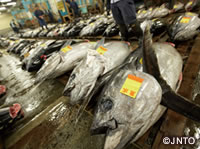 Located in the Tsukiji District in the southern part of the city, Tsukiji Fish Market is the largest in Japan and probably the world. It is important to remember that the Tsukiji Fish Market is a workplace and not a tourist attraction. Although the marketplace itself is open all morning, it is needed to get there very early in order to get the entrance ticket for the famed live auctions, where huge frozen tuna weighing hundreds of pounds are sold to the highest bidder.
Closed on Sundays (and Wednesdays).
Mount Fuji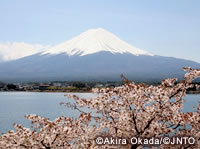 The symmetrical shape and permanently snow-capped cone of Japan's highest mountain, it symbolizes the very spirit of the country. Mount Fuji is a 3,776-m-high dormant volcano, which last erupted in 1707.Though it's visible on clear days (mostly in winter) from as far as 150km away - even from Tokyo - Mount Fuji is far more often cloaked in clouds. If you catch a glimpse of this elusive mountain, consider yourself extremely lucky.
Day 3
Local time
Schedule
Detailed schedule

9:00

Admission

Hakone Area

Board

Hakone Area

Tour boat on Hakone Ashinoko (Lake Ashi)

Get on

Hakone Area

Admission

Hakone Area

The Hakone Open-Air Museum

Get on

Hakone-Yumoto Station
Shinjuku Station

Admission

Shinjuku Area

Tokyo Metropolitan Government Office (observatory)

Visit

Shinjuku Area

17:00
Hakone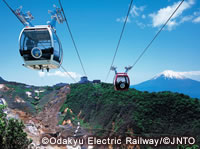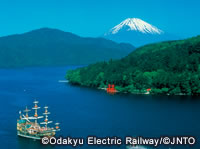 Ashinoko (Lake Ashi)
Hakone is located in the Fuji Hakone Izu National Park about 80km west of Tokyo and attracts about 19 million tourists a year. it has been a resort destination for centuries, and it remains one of the closest and most popular day trips from Tokyo. It has about everything a vacationer could wish for; hot-spring resorts, mountains, lakes, breathtaking views of Mount Fuji, and interesting historical site.
Shinjuku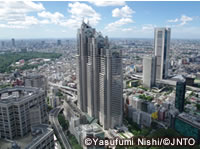 This area, in the west of the city, now probably best represents modern Tokyo - its railway station complex alone is like a small city, as the busiest train station in the world (over 3 million passengers per day). In western area of this district, there are some distinctive skyscrapers including Tokyo Metropolitan Government Offices (free observation deck at 202-m high), and in eastern area is Tokyo's bustling red-light district, Kabukicho, which is an amusing place to stroll around - unaccountable, but mostly safe.