This graphic is for illustrative purposes only.
This itinerary is based on estimated times and is subject to change without notice.
ROUTE MAP

SCHEDULE

*This course starts from Kobe.
−Access to Kobe−
| From | Duration | Transportation |
| --- | --- | --- |
| Tokyo | about 3 hours | by Bullet train (Shinkansen) |
| Tokyo | about 1~1.5 hours | by Air |
| Kansai International Airport | about 1.5 hour | by Train |
Day 1
Local time
Schedule
Detailed schedule
9:15 Arr.
Admission

Kobe Area

Kobe Muslim Mosque (prayer)

Visit

Kobe Area

Port Tower / Meriken Park etc.

16:00 Arr.
17:30 Dep.
20:00 Arr.

Dinner - Night view of Mt. Rokko
Meriken Park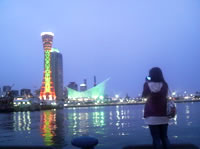 Meriken Park is a waterfront spot of captivating, symbolic structures that include Kobe Port Tower, which, from its top-floor observation post, offers a 10-million-dollar panoramic night view of the port, city skyline, and Mount Rokko. Visitors here have the opportunity to shop, take excursion cruises, and savor the atmosphere of Port Town Kobe with its refreshing seaside breezes.
Day 2
Local time
Schedule
Detailed schedule

9:00 Dep.

Travel
Kobe ⇒⇒ Osaka (about 1 hour)
10:00 Arr.
Admission

Osaka Area

Osaka Castle / Osaka Aquarium Kaiyukan

Visit

Osaka Area

Osaka Station City / Dotonbori / Tenjinbashi Shopping Arcade etc.

Admission

Osaka Area

17:00 Arr.
Osaka Castle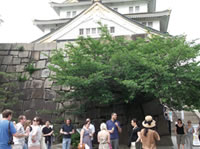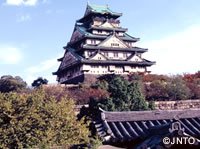 Long a symbol of Osaka during its heyday centuries back as a center of national politics and commerce, Osaka Castle has undergone extensive refinements that enhance its already strong appeal to visitors. Interior chambers of the castle offer imagery of plum orchards, cherry blossoms, and other scenes expressive of the four seasons. Additionally, spotlights light up the castle tower at night.
Day 3
Local time
Schedule
Detailed schedule

9:00 Dep.

Travel
Osaka ⇒⇒ Kyoto (about 40 minutes)
9:40 Arr.
Admission

Kyoto Area

Kinkaku-ji (temple) / Ginkaku-ji (temple) / Kiyomizu-dera (temple) / Sanjusangendo

Admission

Kyoto Area

Kyoto Toei Uzumasa Eigamura (Studio Park)

Visit

Kyoto Area

Admission

Kyoto Area

19:00 Arr.
Toei Uzumasa Eigamura (Kyoto Studio Park)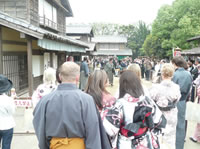 The first of its kind in Japan, Kyoto Studio Park blends a theme park together with an open film set that recreates street scenes of the Edo period, offering visitors opportunities to experience period dramas, watch the live filming of television dramas and movies, and enjoy other events and attractions that provide an up-close experience of the world of television and film. In 2011, the park underwent various remodeling projects that included the completion of a new anime museum and ninja compound.
Day 4
Local time
Schedule
Detailed schedule

9:00 Dep.

Travel
Hotel ⇒⇒ Kyoto Station (about 30 minutes)

10:12 Dep.

Travel
Kyoto Station ⇒⇒ Shinagawa Station

12:23 Arr.

Travel
From Shinagawa Station, inspection tour to Tokyo metropolitan area
Admission

Tokyo Area

TOKYO SKYTREE / Soramachi

Visit

Tokyo Area

Senso-ji (temple) / Nakamise shopping arcade

Visit

Tokyo Area

Shinjuku / Shibuya / Harajuku (or view from bus)

19:45 Arr.
Asakusa (Senso-ji temple, Nakamise shopping arcade)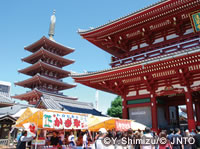 An area in the northeast of the city with distinctive character, Asakusa is the old downtown or SHITAMACHI quarter of Tokyo. It is home to the oldest and best known temple in Tokyo, the Senso-ji (or Asakusa Kannon Temple), which has been standing here - in various forms - since 628 A.D. Nakamise-dori shopping arcade, in front of Senso-ji, consists of several fascinating rows of gaudy shops and stalls selling snack foods, traditional gifts and souvenirs.
Shinjuku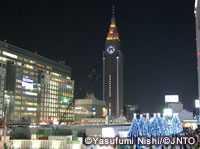 This area, in the west of the city, now probably best represents modern Tokyo - its railway station complex alone is like a small city, as the busiest train station in the world (over 3 million passengers per day). In western area of this district, there are some distinctive skyscrapers including Tokyo Metropolitan Government Offices (free observation deck at 202-m high), and in eastern area is Tokyo's bustling red-light district, Kabukicho, which is an amusing place to stroll around - unaccountable, but mostly safe.
Day 5
Local time
Schedule
Detailed schedule
9:30 Dep.
10:00 Dep.
Admission

Tokyo Area

Visit

Tokyo Area

Akihabara / Ginza / Odaiba

16:30 Arr.