Nagoya Plus 1: Three days of World Heritage Sites and delectable Japanese cuisine in Shizuoka
ROUTE MAP

SCHEDULE
Area: West Shizuoka – Hamamatsu, Kanaya, Yaizu, Nihondaira
Number of days: Three days
Stay at a hot spring ryokan (Japanese-style inn). Enjoy the wa, or harmony, of the atmosphere, including Japanese cuisine.
Ride the steam locomotive train on the Oigawa Railway.
Gaze at the majesty of Mount Fuji from the World Heritage Site Miho no Matsubara and from Nihondaira.
Experience matcha, a specialty of Shizuoka, in a teahouse.
Seafood cuisine for lunch in Yaizu, famous for its tuna and other fresh seafood.
Tour a 150-year-old sake brewery to see the brewing process and sample the final product.
Enjoy the magnificent scenery of Lake Hamana, which is connected to the sea and is famous for its eel farming.
Available period: Available Year-round
Notes:
The operating schedule of Oigawa Railway's steam locomotive train varies by season.
Mount Fuji may not be visible depending on the weather.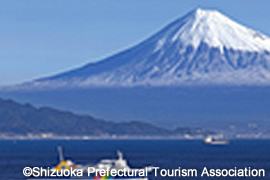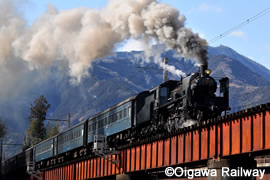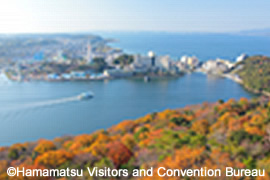 Day 1
Departure location/
overnight location
Time
Transportation
Activities
Meals (accommodations)

Arrive at Chubu Centrair International Airport

Depart from Chubu Centrair International Airport

Afternoon



Chartered bus

After arriving at Chubu Airport, take a bus to Hamamatsu – approximately two hours

Lake Hamana (view from bus)
Enjoy the magnificent scenery of Lake Hamana, which is connected to the sea.

Breakfast – no
Lunch – no
Dinner – yes
Stay in Fujieda
Arrive in Fujieda
Afternoon

Travel by bus – approximately 90 minutes

Experience matcha at a teahouse in Gyokuro-no-Sato and tour a Japanese-style garden – approximately one hour
Have a tea experience with matcha, a specialty of Shizuoka.

Evening
Travel by bus to the hotel, Choosei-Kan at Shida Onsen
Dinner at Choosei-Kan
Day 2
Departure location/
overnight location
Time
Transportation
Activities
Meals (accommodations)

Depart from Fujieda

Arrive in Shin-Kanaya

Morning



Chartered bus

Breakfast at the hotel
To Shin-Kanaya – approximately one hour
Breakfast – yes
Lunch – yes
Dinner – yes
Stay in Lake Hamana

Depart from Shin-Kanaya

Arrive in Senzu

Morning



Train

Steam locomotive train on the Oigawa Railway – approximately one hour
The retro interior, complete with the smell of coal and ceiling fans, Thomas the Tank Engine gifts and more make this a fun trip for adults and kids alike.

Depart from Senzu

Arrive in Yaizu

Morning



Chartered bus

Travel by bus to Yaizu – approximately 80 minutes

Fish lunch at Yaizu Sakana Center
Enjoy fresh fish from the Yaizu Harbor, which yields Japan's second largest seafood catch in volume.
(Sushi, sashimi, or seafood on rice)

Depart from Yaizu

Arrive in Miho no Matsubara

Depart from Miho no Matsubara

Arrive in Nihondaira

Depart from Nihondaira

Afternoon

To Miho no Matsubara by bus – approximately 30 minutes

View Mount Fuji from Miho no Matsubara, part of a World Heritage Site.

To Nihondaira by bus – approximately 30 minutes

View Mount Fuji from a different view, from Nihondaira, where the gods who created Japan are said to have looked over the country.

Arrive in Lake Hamana
Evening

To Lake Hamana by bus – approximately 2 hours

Travel to Lake Hamana by bus
Gaze at the scenery from the side of Lake Hamana
Stay at Hamanako Lake Side Plaza

Arrive at the hotel, have dinner at the restaurant inside
Day 3
Departure location/
overnight location
Time
Transportation
Activities
Meals (accommodations)

Depart from Lake Hamana

Arrive in Hamamatsu

Arrive at Chubu Centrair International Airport

Depart from Chubu Centrair International Airport

Morning



Chartered bus

Breakfast at the hotel

To a sake brewery in Hamamatsu by bus – approximately 40 minutes

Taste sake and take a tour at the Hananomai sake brewery
Enjoy a sake brewery tour and sake tasting at this brewery, established more than 150 years ago.

Travel to Chubu Centrair International Airport – approximately 2 hours

Breakfast – yes
Lunch – no
Dinner – no